ABOUT US
Hotel Medina is conveniently located in the heart of Samarkand within walking distance of all of the major tourist attractions the great ancient city has to offer: 5-minute walk to Samarkand old city Bazaar and Bibi-Khanum Mosque 8-minute walk to Guri Amir Mausoleum 10-minute walk to Registan Ensemble.
The hotel is located only 2.4 miles (3.8 km) away from Samarkand International Airport and 2.2 miles (3.5 km) from Samarkand Railway Station. The property also features a 24-hour front desk service, a seasonal outdoor pool with a gorgeous waterfall, a fitness center, a conference room, an on-site restaurant and lounge, and free parking. Guests also enjoy a free daily Continental/traditional breakfast and free Wi-Fi on the property. The breakfast menu features hot & cold cereals, halal products, omelets/hard-boiled eggs, toast, fresh fruits, other on-demand dishes and beverages. All guest room amenities include air conditioning, flat-screen TV, an electric teapot, a safety deposit box, a mini bar, and an iron with an ironing board. The private bathrooms feature heated floors and full showers, as well as bathrobes, slippers, towels, and toiletries.
Swiming Pool
luxurious pool are designed and executed with a relentless attention to the elements to make the project perfect and the emotions genuine. In other words, you will get great pleasure to swim in our pool.
Fitness Center
If you need a bit of inspiration check out or fitness room. Our fitness provides a safe, functional, and comfortable workout environment, and creates a pleasant and enjoyable atmosphere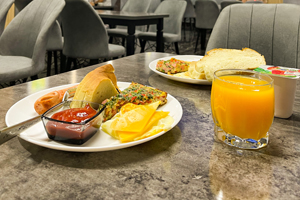 Delicious Food
Ertalab kosmik restoranimizda uyg'onganingizda, siz yangi mevalar, gurme kofe, tanlangan kreplar va Samarqandning an'anaviy quritilgan mevalaridan iborat bufetni topasiz.Ishoning, mehmonxonamizdagi nonushta kunning eng yaxshi boshlanishi.